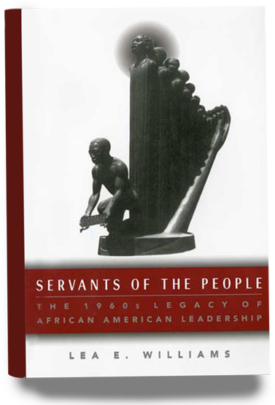 Servants of the People:
The 1960s Legacy of African
American Leadership, 1st Edition, 1996
St. Martin's Press
ISBN print: 978-1-349-61458-5
ISBN online: 978-1-349-61458-5

The repressive climate of racial hatred in America that spawned the 1960s civil rights movement also galvanized a generation of bold, persuasive, driven leaders who embodied the qualities of servant leadership. In a time of conflict, turmoil, and tragedy, these passionate and committed African Americans emerged to lead a generation from the cruelties of segregation to the revolution of civil rights reform.
Beginning with the 1954 Brown v. Board of Education Supreme Court case, Servants of the People follows the lives of six leaders–figures such as A. Philip Randolph, Adam Clayton Powell Jr., and Fannie Lou Hamer–who willingly risked their lives for their cause.
Faculty Guide, Servants of the People
Suggested Use
Servants of the People, a well-researched, meticulously documented resource in the civil right canon, is an excellent supplemental text for courses in African American studies, gender studies, history, leadership studies, political science, servant-leadership, and women's studies. Servants of the People has an extensive review of the leadership literature, copious endnotes, and a 17-page bibliography with 375 citations. The lessons learned section describes the specific leadership characteristics of the profiled leaders, using a servant leadership frame of reference and mode of analysis. A 20-year chronology outlines the major civil rights events from 1954-1974.
Through the engaging biographies of social justice activists, students learn about the history of a phenomenal social movement that forever changed race relations between blacks and whites in the South. The concluding chapters explore the legacy of the civil rights struggle, examining the crippling effects of entrenched white supremacy and lingering black apathy. Finally, the author outlines the unfinished agenda of socio-economic and educational issues thwarting black advancement to the desired and sought after levels of progress.
"Dr. Lea Williams was our special guest speaker for the 3rd annual MacArthur Leadership Series and our first Women's Leadership Luncheon. Lea spoke very effectively on the topic of Race, Gender & Leadership from her research on African-American Leadership from the Civil Rights movement. Lea was well received by our students and faculty. She presents a clear and powerful message but shares it in an open and authentic manner. People found themselves drawn to her humble and warm manner while recognizing the deep expertise she brought to her topic. She knows her subject well and presents it very effectively. We were blessed to have her at Palm Beach Atlantic University and would certainly recommend her to others."
"The Eminent Leaders Series of the Leadership Studies PhD program brings prominent leaders to campus. Author and independent scholar, Lea Williams, was invited to the series to discuss the civil rights leaders profiled in her book, Servants of the People: The 1960s Legacy of African American Leadership, using the theme of "service above self." Dr. Williams engaged the audience of doctoral students and leadership studies faculty in an open dialogue that encouraged and got enthusiastic audience participation. She has an easy, accessible presentation style that makes her well-researched, scholarly material readily understandable, both for those who had read her book and for others who were being introduced to the scholarship of the civil rights period. At the end of the event, several faculty members approached Dr. Williams about presenting to their leadership classes. Lea Williams would be a captivating speaker for leadership studies classes, African-American studies and women's studies programs, as well as student affairs leadership programs."
"A helpful supplement where leadership issues are being debated."
"This [Servants of the People] is a fascinating journey through the lives of those who gave the Civil Rights movement its foundation, men and women who were bound by their shared background in African American churches and/or black-oriented educational institutions."
"This book [Servants of the People] is a useful… set of six civil rights-era leaders layered with reflections on their leadership qualities."
"Dr. Lea Williams is a gifted scholar whose words will nurture the soul of the reader, stoke the fire of the intellectually curious, and inspire the servant leader that lies within us all. Servants of the People is an essential addition to the body of knowledge of African-American history and leadership studies. As the chief architect of the National African American Women's Leadership Institute, her work resulted in change in the lives of women and girls across the nation. Her scholarship and ability to touch, move and inspire an audience are remarkable."
"If you've ever wondered what separates ordinary people from those that become extraordinary leaders, Servants of the People: The 1960s Legacy of African American Leadership is a must read. As a fellow presenter, trainer, and community volunteer, I have known Lea for over 10 years. In addition to serving with her on several community boards, I am a fellow of the National African American Women's Leadership Institute where she served as the founding executive director until 2006. During her leadership of NAAWLI many female managers from Fortune 500 companies and nonprofits throughout the U.S. learned to understand their particular leadership styles and how to maximize their strengths. Should the need for a writer, presenter, facilitator or trainer arise, Lea is an excellent choice and will not disappoint her audience. Her presentations are informative, interactive, timely, and entertaining."